As gasoline ages, it becomes stale. This can reduce engine horsepower, diminish mileage and cause difficulty starting, especially if moisture is in the tank. Adding octane-enhancing GAS-SHOK™ Plus eliminates these problems and keeps fuel refinery fresh for 12–18 months. The premium-grade additive from USA Fuel Service is ideal for RV and two- and four-stroke marine engines running pure gas or ethanol blends.
Ethanol in gasoline tends to absorb moisture. Professional-strength GAS-SHOK Plus disperses residual water that then gets burned off as steam. It's rated for engines running E-10 to E-85 blends.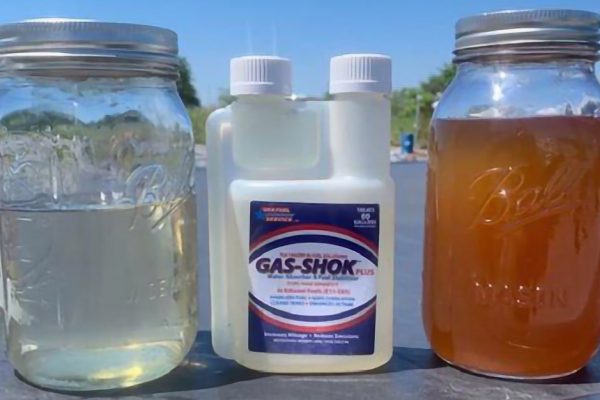 Petroleum-based GAS-SHOK Plus doesn't contain alcohol or acids, so it won't damage hoses, gaskets or other components. Used regularly, it keeps the fuel system clean by preventing gum and varnish from accumulating on rings, valves and related parts. Plus, the advanced formula adds lubrication to extend the life of the fuel pump and injectors. These attributes translate into better mileage and an engine that runs as smooth as silk. A video is at bit.ly/GAS-SHOK.
GAS-SHOK Plus is simply added to the fuel tank, one ounce per 10 gallons of gasoline. Ideal for winterizing, it has no impact on engine warranties. An 8 oz. container of GAS-SHOK Plus treats 80 gal. and costs $18.85; 32 oz. remedies 320 gal. and runs $47.20; and one gal. doses 1,280 gal of gasoline and is $139.60.
USA Fuel Service, W 15223 Kelly Rd., Taylor, WI 54659. 866-575-3835. www.usafuelservice.com.